| | |
| --- | --- |
| Posted by phdradio on September 4, 2015 at 8:30 AM | |
Angus Soundtrack Celebrates 20 Year Anniversary With First Ever Vinyl Release on November 3, 2015; Pre-Orders Now Available
To celebrate the 20th anniversary of the Angus Soundtrack, SRCvinyl is bringing it to vinyl for the first time ever on November 3! The soundtrack for the 1995 cult classic has been mastered for vinyl by Kevin Gray at Coherent Studios and is pressed on limited edition 180 gram vinyl.
 Pre-orders are available here.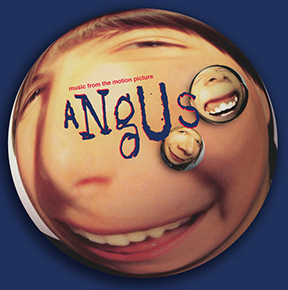 The film's soundtrack accurately reflects the melodic ideas prevalent in the alternative rock scene at the time. Most of the bands perform songs that closely resonate with the themes of the film while keeping a fast yet upbeat tone, a sharp departure from the age of grunge, which had just reached its twilight. (It should be noted that Angus' penchant for flannel and denim, as well as his defeatist persona, are concepts more closely associated with grunge.)
Weezer's initial offering, a song entitled "Wanda (You're My Only Love)" (or sometimes just "Wanda"), was written specifically for the movie but rejected for being "too much of a strict interpretation of the movie" and for not sounding enough like what was expected of Weezer at the time. The previously written, more uptempo "You Gave Your Love to Me Softly" was used instead, and the rejection of the former song was known to have hurt Weezer's singer and songwriter Rivers Cuomo at the time. Though Weezer never properly recorded "Wanda", Cuomo released his 1994 demo of the song (along with the story of the song's submission and rejection) in 2007 on the album Alone: The Home Recordings of Rivers Cuomo.
The soundtrack also includes a unique version of "Am I Wrong" by Love Spit Love, mixing marching band horns into the original version of the song which interplay well with Richard Butler's raw vocals.
Green Day contributed "J.A.R. (Jason Andrew Relva)", a song written by bassist Mike Dirnt about his friend who died in a car accident when he was 19. This song peaked at number one on the Modern Rock Billboard charts of 1995. This song was later released on their 2001 greatest hits album, International Superhits. Meanwhile, Green Day singer Billie Joe Armstrong co-produced "Back to You" by the Riverdales with producer Mass Giorgini, which was featured during the dance sequence at the high prom in the film.
The music supervisors for Angus were Elliot Cahn and Jeff Saltzman, who, at the time, also managed two of the soundtrack's artists: Green Day and The Muffs.
Vinyl Color:
180 Gram Clear (LTD 1,500)
and 180 Gram Opaque Blue (LTD 500, SRCvinyl Exclusive)
Track Listing
SIDE A
Green Day - J.A.R.
Ash - Jack Names The Planets
Dance Hall Crashers - Enough
Ash - Kung Fu
Riverdales, The - Back To You
Smoking Popes - Mrs. You And Me
SIDE B
Weezer - You Gave Your Love To Me Softly
Goo Goo Dolls - Ain't That Unusual
Muffs, The - Funny Face
Tilt - White Homes
Pansy Division - Deep Water
Love Spit Love - Am I Wrong