Little Envy Releasing 'From Inside My Head' EP on October 23; Pre-Order Bundles Now Available; First Single "Pill" Now Streaming on New Noise
San Francisco musicians Joseph de los Reyes and Koosh Saxena, who go by the name Little Envy, will release their new EP, "From Inside My Head," on October 23rd via Housework Records, a division of Nashville's South By Sea Records. "From Inside My Head" was produced by Beau Burchell of Saosin. The first single "Pill" is available for p...
Read Full Post »
Angus Soundtrack Celebrates 20 Year Anniversary With First Ever Vinyl Release on November 3, 2015; Pre-Orders Now Available
To celebrate the 20th anniversary of the Angus Soundtrack, SRCvinyl is bringing it to vinyl for the first time ever on November 3! The soundtrack for the 1995 cult classic has been mastered for vinyl by Kevin Gray at Coherent Studios and is pressed on limited edition 180 gram vinyl.
 Pre-orders are available
Read Full Post »
Punk Band 'Everything Ever' Lose Over 6k Worth of Gear in Robbery
For Immediate Release:
(August 25, 2015 - New York, NY) - It seems to be an all-too-common story lately of bands having their vans broken into while on tour, but no matter how many times you hear it, it's never an easy pill to swallow. Punk trio Everything Ever were riding high on the recent release of their new music video "Big Ideas" and were getting rea...
Read Full Post »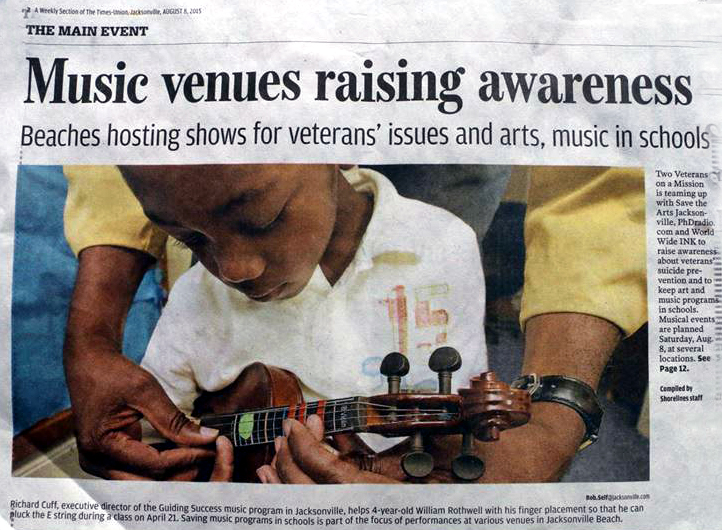 Music shows at Beaches to raise awareness of veterans' Issues!
By For Shorelines Wed, Aug 5, 2015 @ 6:36 pm
Two Veterans on a Mission is teaming up with Save the Arts Jacksonville, PhDradio.com and World Wide INK to raise awareness about veterans' suicide prevention and to keep art and music ...
Read Full Post »
Lost Film, the latest project of Northampton musician Jimmy Hewitt (formerly known as Orca Orca) is streaming its new LP, 'Imago' on Absolutepunk.
'Imago' is out August 18 on The Native Sound. Pre-orders are now a...
Read Full Post »